Haíɫzaqv (Heiltsuk) Nation
Bella Bella
The Haíɫzaqv (Heiltsuk) are the main descendants of Hailhzaqvla-speaking peoples who inhabited an area of approximately 6000 sq. miles in the central coast region of what is today known as British Columbia.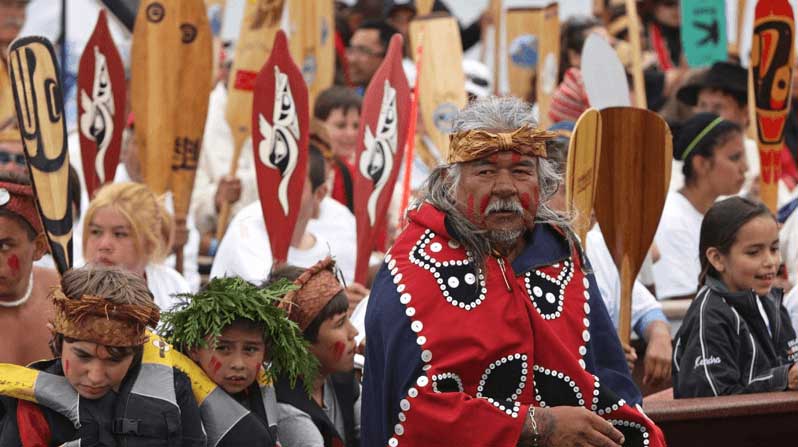 Members of Heiltsuk celebrate a Tribal Canoe Journey. Photo by Darryl Dyck, courtesy of The Canadian Press.
Haíɫzaqv (Heiltsuk) Nation
The Haíɫzaqv (Heiltsuk) territory encompasses many inlets, islands, rivers, and mountains, containing old growth forest and dense undergrowth.
The Haíɫzaqv traditional territory extends from the southern tip of Calvert Island, up Dean and Burke Channels as far as Kimsquit and the head of Dean Inlet to the northeast, and up the Mathieson and Finlayson Channels to the north. It includes Roscoe, Cousins and Spiller Inlets, and Ellerslie Lake, and the outer coast regions of Milbanke Sound, Queens Sound, and the Goose Island Group and Calvert.
Historically, the Haíɫzaqv (Heiltsuk) inhabited over 50 major villages across their territory with the main community located at 'Qélc village on Campbell Island, close to the Hudson's Bay trading post of Fort McLaughlin.
While the Haíɫzaqv (Heiltsuk) called this village 'Qélc, it is thought European settlers referred to it by its geographical name Pélbála which eventually gave rise to the modern English name Bella Bella.
See Projects
Wáglísla, now known as Bella Bella, remains the main community location for the Heiltsuk Nation and is the largest First Nation community in the Great Bear Rainforest. It boasts a Heiltsuk fish processing plant, BC Ferries terminal, and regional airport.
The Heiltsuk Integrated Resource Management Department is also located in Bella Bella; allowing for an integrated approach to stewardship and decision-making relating to land, water and cultural resources within Heiltsuk Territory as well as providing technical advice to the Heiltsuk Tribal Council.
Haíɫzaqv (Heiltsuk) Nation Projects
In partnership with Coast Funds, Haíɫzaqv (Heiltsuk) Nation has invested in:
| First Nation | Applicant | Project | Description | Links | Type | Year | Funding |
| --- | --- | --- | --- | --- | --- | --- | --- |
| Haíɫzaqv (Heiltsuk) Nation | Heiltsuk Economic Development Corporation | Lama Pass Fuel Co. Ltd. – Capital Upgrades & Maintenance | To invest in infrastructure and environmental improvements at Luma Pass Fuel LP to update marina float and area, streamline fueling services to achieve operational efficiencies. | | Economic Development Fund | 2023 | $ 150,000 |
| Haíɫzaqv (Heiltsuk) Nation | Heiltsuk Tribal Council | Heiltsuk Integrated Resource Management Dept. – 2023/24 Operations | To support operations of the Heiltsuk Integrated Resource Management Department, which undertakes activities to maintain and apply Heiltsuk knowledge for stewardship purposes, with a focus on strengthening the monitoring and auditing of all resource users in the Territory; continued involvement in land and marine stewardship through regional collaboration; identifying and prioritizing salmon systems for habitat restoration efforts; and processing referrals and enforcing laws and policies in traditional territory. | | Conservation Fund | 2023 | $ 381,911 |
| Haíɫzaqv (Heiltsuk) Nation | Heiltsuk Tribal Council | Heiltsuk Integrated Resource Management Dept. – 2022/23 Operations | To support operations of the Heiltsuk Integrated Resource Management Department including contributing to Heiltsuk knowledge for stewardship via monitoring and research projects; strengthening the monitoring and auditing of all resource users through the Heiltsuk Guardian Watchmen Program; continued involvement in land and marine stewardship through the AFS monitoring program, MaPP implementation, and regional monitoring programs; as well as processing referrals and enforcing laws and policies in traditional territory. | | Conservation Fund | 2022 | $ 618,260 |
| Haíɫzaqv (Heiltsuk) Nation | Heiltsuk Tribal Council | Acquisition of Shearwater Marine Resort | To acquire Widsten Holdings Inc., including a generational investment by the Haíɫzaqv Nation in the acquisition of Shearwater Marine Ltd., a prominent marina and resort encompassing 63 acres on Denny Island along with investments that develop Indigenous-led ecotourism as a key component of its business model going forward | | Economic Development Fund | 2021 | $ 450,000 |
| Haíɫzaqv (Heiltsuk) Nation | Heiltsuk Tribal Council | Heiltsuk Integrated Resource Management Dept. – 2021/22 Operations | To support operations of the Heiltsuk Integrated Resource Management Department including implementing the 2021-2024 Strategic Plan; increasing knowledge of local ecosystems via monitoring and research projects; working with the Central Coast Indigenous Resource Alliance (CCIRA), Coastal Stewardship Network (CSN) and Coastal First Nations (CFN) on land and marine stewardship through the AFS monitoring program, MaPP implementation, and regional monitoring; monitoring resource users and enforcing the policy positions of the Nation; and continuing to use collected data and knowledge to advance Heiltsuk Title and Rights. | | Conservation Fund | 2021 | $ 650,000 |
| Haíɫzaqv (Heiltsuk) Nation | Heiltsuk Tribal Council | Heiltsuk Integrated Resource Management Dept. – 2020/21 Operations | To support operations of the Heiltsuk Integrated Resource Management Department including the renewal of a three-year strategic plan, continuation a collaborative policy for the Reconciliation Protocol Agreement as it relates to the Great Bear Rainforest (Forest Management) Act, building integrated stewardship management capacity through one part time equivalent position to support senior management, and drafting a policy to guide collaborative efforts to implement conservation management plans. | | Conservation Fund | 2020 | $ 650,000 |
| Haíɫzaqv (Heiltsuk) Nation | Heiltsuk Economic Development Corporation | Infrastructure Upgrades for Lama Pass Fuel Co LP | To invest in the infrastructure of Lama Pass Fuel Co. Limited Partnership in Bella Bella that will support the business to partner with Pacific Coastal Airlines Limited and expand their product line to jet fuel, increasing their net income and improving inventory and cash flow management | | Economic Development Fund | 2020 | $ 150,000 |
| Haíɫzaqv (Heiltsuk) Nation | Heiltsuk Economic Development Corporation | Heiltsuk Economic Development Corporation- 2019/20 Operations | To support operations of the Heiltsuk Economic Development Corporation (HEDC) and its seven subsidiary companies to complete updated business plans for each operating entity; establish a new local economic development fund; streamline the operations and associated overhead of HEDC; to spur new developments including airport terminal improvements, expanded fish plant operations, jet fuel supply and delivery to air transportation companies; and to secure opportunities for sustainable development through active participation in the Haíɫcístut Reconciliation Process. | | Economic Development Fund | 2019 | $ 196,700 |
| Haíɫzaqv (Heiltsuk) Nation | Heiltsuk Tribal Council | Heiltsuk Integrated Resource Management Dept. – 2019/20 Operations | To support operations of the Heiltsuk Integrated Resource Management Department (HIRMD) in 2018 including continuing work on five conservancy management plans as identified in the Heiltsuk Land Use Plan in partnership with Qqs Projects Society; continuing implementation of the Coastal Reconciliation Protocol as it relates to the Great Bear Rainforest Act; monitoring the ecological integrity of the Gale Creek area as a result of the Nathan E. Stewart oil spill; developing a process for responding to Fisheries and Oceans Canada plans; undertaking a third year of research focusing on Yagia (kelp) reproduction and growth; implementing the new HIRMD Strategic Plan; and continuing partnerships with Hakai Beach Institute and Simon Fraser University. | | Conservation Fund | 2019 | $ 490,000 |
| Haíɫzaqv (Heiltsuk) Nation | Heiltsuk Economic Development Corporation | Heiltsuk Economic Development Corporation – 2018/19 Operations | To support operations of the Heiltsuk Economic Development Corporation and its seven subsidiary companies including providing skills development for the First Nations Business Advisory Services team, recruiting senior management positions, and having an active role in the reconciliation process as it relates to economic development. | | Economic Development Fund | 2018 | $ 221,050 |
| Haíɫzaqv (Heiltsuk) Nation | Heiltsuk Tribal Council | Heiltsuk Integrated Resource Management Dept. – 2018/19 Operations | To support operations of the Heiltsuk Integrated Resource Management Department (HIRMD) in 2018 including continuing work on five conservancy management plans as identified in the Heiltsuk Land Use Plan; continuing implementation of the Coastal Reconciliation Protocol as it relates to the Great Bear Rainforest Act; completing the first Heiltsuk law as it relates to the ocean; developing a process for responding to Fisheries and Oceans Canada plans; undertaking a second year of research focusing on Yagia (kelp) reproduction and growth; implementing the new HIRMD Strategic Plan; and continuing partnerships with Hakai Beach Institute and Simon Fraser University. | | Conservation Fund | 2018 | $ 474,000 |
| Haíɫzaqv (Heiltsuk) Nation | Heiltsuk Economic Development Corporation | Heiltsuk Economic Development Corporation – 2017/18 Operations | To support operations of the Heiltsuk Economic Development Corporation and its seven subsidiary companies including securing long-term funding for the operations of the Bella Bella Fish Plant, to improve access to capital for entrepreneurs and increase capacity for business managers in Bella Bella | | Economic Development Fund | 2017 | $ 280,000 |
| Haíɫzaqv (Heiltsuk) Nation | Heiltsuk Economic Development Corporation | Bella Bella Ice House Capital Improvements | To invest in capital improvements of the Bella Bella Ice House to attract fishing vessels to the Bella Bella Fish Plant and support local fishers and seafood processing employees in the community | | Economic Development Fund | 2017 | $ 110,000 |
| Haíɫzaqv (Heiltsuk) Nation | Heiltsuk Tribal Council | Heiltsuk Integrated Resource Management Dept. – 2017 Operations | To support operations of the Heiltsuk Integrated Resource Management Department including continued implementation of the Coastal Reconciliation Protocol, a new research initiative focusing on Yagia (kelp) reproduction and growth, research partnerships with Hakai Beach Institute and Simon Fraser University, remediation planning for the 2016 diesel spill in Seaforth Channel, and implementation of new land use orders established under the Great Bear Rainforest Act | | Conservation Fund | 2017 | $ 584,079 |
| Haíɫzaqv (Heiltsuk) Nation | Bella Guest Cabins | Expansion of Bella Guest Cabins | To invest in the expansion of Bella Guest Cabins from two to three cabins to support tourism in Bella Bella and provide visitors with additional accommodation | | Economic Development Fund | 2016 | $ 50,000 |
| Haíɫzaqv (Heiltsuk) Nation | Heiltsuk Economic Development Corporation | Heiltsuk Economic Development Corp. – 2016/17 Operations | To support operations of the Development Corporation, develop new tourism businesses in partnership with entrepreneurs in Bella Bella, continue research and development of aquaculture initiatives, develop capacity in silviculture, and oversee major capital projects including the Waglisla Commercial Complex and the Bella Bella airport terminal expansion | | Economic Development Fund | 2016 | $ 280,000 |
| Haíɫzaqv (Heiltsuk) Nation | Heiltsuk Tribal Council | Heiltsuk Integrated Resource Management Dept. – 2016/17 Operations | To support operations of the Heiltsuk Integrated Resource Management Department in 2016/17 including continued implementation of the Coastal Reconciliation Protocol, continued research partnerships including with Hakai Beach Institute and Simon Fraser University, collaborative development of four conservancy management plans, and continued development of the HIRMD forest, referrals, and culture and heritage policies | | Conservation Fund | 2016 | $ 584,079 |
| Haíɫzaqv (Heiltsuk) Nation | Heiltsuk Economic Development Corporation | Wáglísla Commercial Complex Construction and Start-up | To revitalize the community center of Bella Bella by constructing and operating a new retail commercial complex that provides community services, including a new grocery store with a bakery and post office | | Economic Development Fund | 2016 | $ 2,000,000 |
| Haíɫzaqv (Heiltsuk) Nation | Heiltsuk Economic Development Corporation | Heiltsuk Economic Development Corp. – 2015/16 Executive Recruitment | As a key element of finalizing a major restructuring of the Nation's development corporation, to recruit and staff a new Chief Operating Officer position that will be responsible for managing and expanding the Nation's forestry, commercial, transportation, aquaculture and tourism business operations | | Economic Development Fund | 2015 | $ 50,000 |
| Haíɫzaqv (Heiltsuk) Nation | Heiltsuk Economic Development Corporation | Bella Bella Airport Terminal – Retail and Amenity Improvements and Establishing an Airport Improvement Fee | To increase commercial retail space for local entrepreneurs within the airport terminal and to establish an airport improvement fee that creates a stable revenue stream for future improvements, and modernize the facility that is relied on by community members, commercial operators, and government agencies for accessing BC's central coast region | | Economic Development Fund | 2015 | $ 115,000 |
| Haíɫzaqv (Heiltsuk) Nation | Heiltsuk Tribal Council | Heiltsuk Integrated Resource Management Dept. – 2015 Summer-Winter Operations | To support operations of the Heiltsuk Integrated Resource Management Department from June 2015 to March 2016 including completion of five conservancy management plans and collaboration with the Nuxalk and Wui'kinuxv Nations on three additional conservancies in the Central Coast region | | Conservation Fund | 2015 | $ 800,000 |
| Haíɫzaqv (Heiltsuk) Nation | Heiltsuk Economic Development Corporation | Heiltsuk Economic Development Corp. – 2015/16 Restructuring | To finalize a major restructuring of the Nation's group of companies under a new holdings board with three operating boards, to continue operations of the development corporation, and to develop a number of new forestry, commercial, transportation, aquaculture and tourism business opportunities | | Economic Development Fund | 2015 | $ 300,000 |
| Haíɫzaqv (Heiltsuk) Nation | Heiltsuk Tribal Council | Heiltsuk Integrated Resource Management Dept. – 2015 Spring Operations | To support operations of the Heiltsuk Integrated Resource Management Department for the first quarter of 2015/16 (April to June) | | Conservation Fund | 2015 | $ 354,564 |
| Haíɫzaqv (Heiltsuk) Nation | Heiltsuk Economic Development Corporation | Expansion of Waglisla Freight | To invest in capital upgrades, productivity enhancing equipment, and provide working capital for an expansion of Waglisla Freight Agency LP | | Economic Development Fund | 2014 | $ 65,000 |
| Haíɫzaqv (Heiltsuk) Nation | Heiltsuk Economic Development Corporation | Heiltsuk Economic Development Corp. – 2014/15 Operations | To continue operations as the tribal council and development corporation implement legal and structural changes to the Nation's governance of its companies | | Economic Development Fund | 2014 | $ 250,000 |
| Haíɫzaqv (Heiltsuk) Nation | Heiltsuk Tribal Council | Heiltsuk Integrated Resource Management Dept. – 2014/15 Operations | To support operations of the department, contribute to ecosystem-based management review, develop forestry and herring management plans, and continue to respond to resource development referrals | | Conservation Fund | 2014 | $ 1,220,000 |
| Haíɫzaqv (Heiltsuk) Nation | Heiltsuk Economic Development Corporation | Business Planning for Operating Subsidiaries | To continue operations as management develops business plans for each subsidiary company and the Board develops a new five year strategic plan | | Economic Development Fund | 2014 | $ 125,000 |
| Haíɫzaqv (Heiltsuk) Nation | Heiltsuk Tribal Council | Heiltsuk Integrated Resource Management Dept. – 2013/14 Fall-Winter Operations | To support operations of the department including seasonal patrols of the Nation's territory, management of resource development referrals, and development of conservancy management plans | | Conservation Fund | 2013 | $ 509,501 |
| Haíɫzaqv (Heiltsuk) Nation | Heiltsuk Tribal Council | Commercial Fisheries Business Retention and Expansion Pilot | To support local and regional commercial fishing operators under a one time business retention and expansion pilot program | | Economic Development Fund | 2013 | $ 149,920 |
| Haíɫzaqv (Heiltsuk) Nation | Heiltsuk Economic Development Corporation | Heiltsuk Economic Development Corp. – 2013/14 Operations | To continue operations for six months while the tribal council and development corporation determine changes to the Nation's governance structure for economic development | | Economic Development Fund | 2013 | $ 168,500 |
| Haíɫzaqv (Heiltsuk) Nation | Heiltsuk Tribal Council | Heiltsuk Integrated Resource Management Dept. – 2013/14 Spring-Summer Operations | To support operations of the department including routine monitoring of the Nation's traditional territory, management of resource development referrals, and identify conservancy and tourism economic opportunities in partnership with the provincial government | | Conservation Fund | 2013 | $ 578,000 |
| Haíɫzaqv (Heiltsuk) Nation | Heiltsuk Tribal Council | Heiltsuk Integrated Resource Management Dept. – 2012/13 Special Projects | To support operations of the department including completion of two conservancy management plans, continuation of traditional use studies, and archaeological work at Hauyet, a traditional gathering place, in partnership with Simon Fraser University | | Conservation Fund | 2012 | $ 210,000 |
| Haíɫzaqv (Heiltsuk) Nation | Heiltsuk Tribal Council | Loan Loss Reserve Facility | To secure a commercial loan up to $3,000,000 in order to support ongoing capital investment and operations of the Bella Bella Fish Plant | | Economic Development Fund | 2012 | $ 350,000 |
| Haíɫzaqv (Heiltsuk) Nation | Heiltsuk Economic Development Corporation | Heiltsuk Economic Development Corp. – 2012/13 Operations | To continue the start-up of operations for the development corporation through 2012/13 including management support for subsidiary companies and development of new business opportunities | | Economic Development Fund | 2012 | $ 250,000 |
| Haíɫzaqv (Heiltsuk) Nation | Heiltsuk Tribal Council | Heiltsuk Integrated Resource Management Dept. – 2012/13 Operations | To support operations of the department including seasonal patrols of the Nation's territory, management of resource development referrals, development of conservancy management plans, and green crab invasive species monitoring | | Conservation Fund | 2012 | $ 500,000 |
| Haíɫzaqv (Heiltsuk) Nation | Heiltsuk Tribal Council | Investment in Resource Development Referral Systems | To establish an effective resource development referrals management process including hiring a Culture and Heritage Manager and a Policy Analyst, building a referrals tracking system, and creating response templates for each section of the integrated stewardship office | | Conservation Fund | 2011 | $ 93,750 |
| Haíɫzaqv (Heiltsuk) Nation | Heiltsuk Economic Development Corporation | Recommissioning the Bella Bella Fish Plant | To recommence operations of a large scale seafood processing facility under Heiltsuk Fisheries Management Ltd. | | Economic Development Fund | 2011 | $ 300,000 |
| Haíɫzaqv (Heiltsuk) Nation | Heiltsuk Economic Development Corporation | Heiltsuk Economic Development Corp. – 2011/12 Operations | To continue the start-up of operations of the Nations' new development corporation, assess joint venture opportunities, and continue business development for subsidiary companies | | Economic Development Fund | 2011 | $ 180,000 |
| Haíɫzaqv (Heiltsuk) Nation | Heiltsuk Tribal Council | Heiltsuk Integrated Resource Management Dept. – 2011/12 Operations | To support operations of the department including seasonal patrols of the Nation's territory, management of resource development referrals, and development of conservancy management plans | | Conservation Fund | 2011 | $ 374,000 |
| Haíɫzaqv (Heiltsuk) Nation | Heiltsuk Economic Development Corporation | Marine Transportation Infrastructure Investment | To construct a new marine fuel facility and upgrade the existing fuel service operated by Lama Pass Fuel Company in Bella Bella | | Economic Development Fund | 2010 | $ 350,000 |
| Haíɫzaqv (Heiltsuk) Nation | Heiltsuk Economic Development Corporation | Expansion of Waglisla Shellfish LP | To invest in scallop farm infrastructure to operate a commercial-scale aquaculture business in Heiltsuk territory in partnership with Coastal Shellfish Corporation | | Economic Development Fund | 2010 | $ 622,995 |
| Haíɫzaqv (Heiltsuk) Nation | Heiltsuk Economic Development Corporation | Heiltsuk Economic Development Corp. – 2010/11 Operations | To continue the start-up of operations of the Nations' new development corporation, implement the new strategic plan, and convene the new board of directors regularly | | Economic Development Fund | 2010 | $ 250,000 |
| Haíɫzaqv (Heiltsuk) Nation | Heiltsuk Tribal Council | Heiltsuk Integrated Resource Management Dept. – 2010/11 Start-up | To initiate and operate the department including hiring stewardship personnel, implementing governance and operating policies, and assuming a lead role in land and marine use planning as well as conservancy management | | Conservation Fund | 2010 | $ 330,000 |
| Haíɫzaqv (Heiltsuk) Nation | Heiltsuk Tribal Council | Establishment of the Heiltsuk Integrated Resource Management Dept. | To establish the integrated stewardship office with accountability to the tribal council, hereditary council, and members for the management of resources including lands, water, fisheries, cultural heritage, and information services including GIS and resource development referrals | | Conservation Fund | 2009 | $ 273,055 |
| Haíɫzaqv (Heiltsuk) Nation | Heiltsuk Tribal Council | Collaborative Due Diligence for an Area-Based Forestry Tenure | To collaborate with three other Nations to jointly conduct negotiations with the Province of BC for a large area-based forestry tenure and to undertake comprehensive due diligence for the acquisition of a major tree farm license supply block | | Economic Development Fund | 2009 | $ 117,000 |
| Haíɫzaqv (Heiltsuk) Nation | Heiltsuk Economic Development Corporation | Waglisla Shellfish LP – Pilot-Scale Aquaculture Trials | To continue pilot-scale scallop farming trials for a future commercial-scale aquaculture business in Heiltsuk territory in partnership with Coastal Shellfish Corporation | | Economic Development Fund | 2009 | $ 50,000 |
| Haíɫzaqv (Heiltsuk) Nation | Heiltsuk Economic Development Corporation | Start-up of Heiltsuk Economic Development Corporation | To transfer existing businesses under management of the tribal council to the new development corporation, to recruit a CEO, develop a strategic plan, and to commence operations | | Economic Development Fund | 2009 | $ 367,330 |
| | | | | | | | |
| --- | --- | --- | --- | --- | --- | --- | --- |
| Total Projects | | 47 | | | | Total Invested | $ 17,623,694 |
Total Projects: 47
Total Invested: $ 17,623,694