Who We Are
Coast Funds supports First Nations in achieving their goals for sustainable economic development and conservation management in the Great Bear Rainforest and Haida Gwaii.
Coast Funds' team works closely with First Nations, oversees the funds' financial performance, liaises with funders, and leads organizational initiatives.
Coast Funds' Board of Directors is responsible for governance of the conservation and economic development funds, reporting to the Members.
The Board has specific obligations set out in the governing documents of the organization, in particular, the Conservation and Investments Incentives Agreement (CIIA). Under that agreement, the Board must:
Publish an annual Strategic Plan spanning a three-year cycle;
Ensure compliance with the requirements of CIIA; and
Review and make decisions on whether to approve funding applications.
The Board carefully considers economic and environmental factors when approving funds for investment into projects and programs. The Board also ensures compliance with governance policies and ensures that new Directors meet the requirements of a competency matrix.
Dallas Smith
Board Chair
Dallas has roots from all four corners of the Kwak̓wala speaking peoples with his mother coming from Haxwa'mis (Wakeman Sound) and Tsakis (Fort Rupert) and his father coming from G̱wayasdums (Gilford Island) and Qalagwees (Tourner Island). He's spent the majority of his career working to bring greater human well-being and capacity to the Nations of the Great Bear Rainforest (GBR). As one of the architects of the GBR agreements and as the Founder and President of Na̲nwak̲olas Council he has built positive working relationships with all levels of government, industry, and the philanthropic community to find balance between conservation and sustainable economic development. His pragmatic and straight forward style has made him a welcome addition to many boards and committees and even led to him running as a candidate in the 2017 provincial election in the North Island riding. He lives in Duncan with his wife Toni and three beautiful daughters.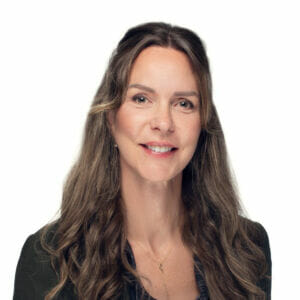 Sage Berryman
Sage is the founder of the Prosperity Pollinator movement helping to bring impact-based businesses into the areas that need them the most. Before becoming an entrepreneur she was the West Coast General Manager and Senior Managing Director with a global management consulting company called FTI Consulting working in San Francisco. Through her career she has worked with a number of high growth companies where she led multiple successful business and strategic planning initiatives, private and public financings, and sales and marketing programs. Sage holds an M.B.A. in international business from Queen's University. She serves on three corporate boards and is an active mentor and advisor for numerous entrepreneurs and their businesses.
Laanas (Tamara Davidson)
Tamara is a member of the Haida Nation and proudly serves as a Vancouver Regional Representative for the Council of the Haida Nation. She has worked in the federal public service for more than 25 years in the areas of land stewardship, strategic planning, community planning, visitor experience, and policy development, working with the Royal Canadian Mounted Police, Indigenous Services Canada, and Gwaii Haanas National Park Reserve, National Marine Reserve and Haida Heritage Site.
Previously, Tamara served as the co-chair for the Haida Gwaii/QCI Land Use Planning Process on behalf of the Council of the Haida Nation. Through her work in planning and policy development, she developed strong facilitation skills and a collaborative approach to conflict resolution. Tamara served on various boards over the years such as the First Peoples Heritage, Language, and Culture Council; the First People's Foundation; and the Haida Enterprise Corporation. Currently, she serves as Secretary of the Board for the Rediscovery Haida Gwaii Society. Tamara has also worked in property management for four years and managed more than 25 commercial/residential strata buildings in and around Vancouver.
Garth Davis
Garth is a Managing Partner of New Market Funds and has spent more than 25 years in capital deployment. He has leadership experience in impact investing (Vancity Community Capital), private equity (Turtle Creek and Scotia Merchant Capital), and corporate and leveraged finance (Scotia Capital). He has a Master of Arts in International Economics from the Paul H. Nitze School for Advanced International Studies at Johns Hopkins University, a Master of Science from the London School of Economics and Political Science, and a Bachelor of Arts from Simon Fraser University.
David Egan
David is a recently retired Partner of PricewaterhouseCoopers, a major accounting firm, where he worked for over 25 years as a financial advisor and management consultant specializing in financial and market analysis, strategic planning and business decision support.
David has had a strong focus on public sector infrastructure and has worked on large scale complex procurements involving project financing. He has also worked on outsourcing programs and been involved in federal and provincial Treasury Board submissions to obtain program funding approvals.
David's experience includes working extensively in the transportation, energy and resource sectors in BC including with several First Nations. He brings a depth of experience in financial and market analysis and business decision support and is a Chartered Accountant, and a Chartered Professional Accountant.
Ts'xwiixw (Megan Moody)
Megan, a citizen of the Nuxalk Nation, was born and raised in the village of Bella Coola, near the original settlement of Q'umk'uts'. After completing her B.Sc. (biology) at the University of Victoria, she worked as the Nuxalk Fisheries Manager and later, after completing her M.Sc. from the University of British Columbia's Fisheries Center, as the Nuxalk Stewardship Director. Currently, she works more broadly with First Nations communities as a trustee for the Coastal Nations Fisheries Trust and as the wild salmon program manager for Coastal First Nations – Great Bear Initiative. Her passion continues to be eulachon restoration and protection and advancing indigenous authority and territorial stewardship.
Chris Trumpy
Chris has more than 30 years of experience in public service. He holds a Bachelor of Commerce degree and while working for the provincial government was Deputy Minister of the Ministries of Finance and Corporate Relations; Provincial Revenue; Sustainable Resource Management, and Environment. He has also been Secretary to the Treasury Board. He currently sits on the boards of Coast Capital Savings Federal Credit Union and 94Forward.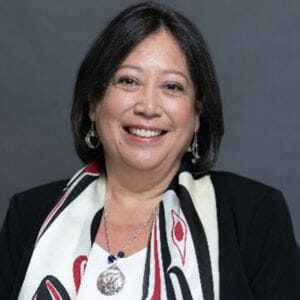 Angela Wesley
Angela is a citizen of the Huu-ay-aht First Nations (Nuu-chah-nulth) and has been principal in Wes-Can Advisory Services since 1992. Over the past 30 years, she has worked extensively within her own community and with First Nations communities throughout BC providing advisory and facilitation services in the areas of strategic planning, community development, communications, community engagement, and governance capacity building.
She has been one of the champions in her Nation's self-governance journey, having been involved throughout all stages of negotiation, ratification and now implementation of the Maa-nulth First Nations treaty, the first multi-nation modern day treaty under the BC Treaty Commission process. She represents all 5 signatories to the treaty as their representative on the tripartite Treaty Implementation Committee.
Currently serving as a Director on the Boards of the Land Title and Survey Authority of BC and Technical Safety BC, she also served for 9 years as Board Chair/President for the HFN Group of Businesses (forestry, fisheries, gravel, hospitality, lands, management limited partnerships) and has been a Director on a number of other boards including the New Relationship Trust, the Royal British Columbia Museum and the Nicola Valley Institute of Technology where she also served as Chair.
Angela is actively involved in international discussions on indigenous governance and leadership and has been serving as a Commissioner on the British Columbia Treaty Commission since 2018.
Coast Funds is a globally recognized model of permanent conservation financing that invests to strengthen the well-being of First Nations.
In recent years, conservation practices have increasingly adopted business-based approaches. Among these is the use of project-finance techniques to mobilize the resources, institutional commitments, and other conditions needed for successful long-term conservation.
The fundraising and negotiations that resulted in the creation of Coast Funds are globally recognized as an example of Project Finance for Permanence (PFP). The aim of PFP is to help establish the conditions required to secure the ecological, financial, organizational, political, and social sustainability of globally important places. The PFP process often takes many years and a high-level of collaboration between disparate partners, but provides a durable foundation for long-term landscape-level conservation success.
The efforts to establish Coast Funds introduced full-cost fundraising and a single financial closing to the PFP model. The project also took a comprehensive view of stakeholder support and organized efforts from each party. For example, Tides Canada led the key stages of the PFP process, including the financial closing and fundraising in Canada, while The Nature Conservancy led the private fundraising effort in the United States.  These are examples of the many important roles played by different parties, including First Nations, NGOs, funders, and industry groups. The involvement of such a wide range of stakeholders is an important feature of the establishment of Coast Funds.
More information on the history of the strategic land use plan agreements, collaboration between stakeholders, and the creation of Coast Funds is available on the History of the Great Bear Rainforest page.
Project Finance for Permanence Resources
Linden Trust, Moore Foundation, and Redstone Strategy Group:
Lessons from Landscape-scale Conservation Deals, 2011
Assessments of three landscape-scale conservation deals, 2011
Stanford Social Innovation Review:
"A Big Deal for Conservation", 2012
World Wildlife Fund:
Project Finance for Permanence: Key Outcomes and Lessons Learned, 2015
World Bank, World Wildlife Fund:
Securing Sustainable Financing for Conservation Areas: A Guide to Project Finance for Permanence, 2021
Funders
Initially capitalized with $118 million provided by six private foundations, the Province of British Columbia, and the Government of Canada, Coast Funds is comprised of two separate organizations.
The Nature Conservancy is the leading conservation organization working around the world to protect ecologically important lands and waters for nature and people.
The William and Flora Hewlett Foundation helps people build measurably better lives. The Foundation concentrates its resources on programs in education, environment, global development, and philanthropy.
The Gordon and Betty Moore Foundation fosters path-breaking scientific discovery, environmental conservation, patient care improvements and preservation of the special character of the Bay Area.
For more than 50 years, the David and Lucile Packard Foundation has worked with partners around the world to improve the lives of children, families, and communities—and to restore and protect our planet.
The Rockefeller Brothers Fund advances social change that contributes to a more just, sustainable, and peaceful world.
The Tides Canada Foundation now operates as MakeWay and helps Canadians secure a healthy environment in ways that promote social equity and economic prosperity.
The federal government of Canada.
The provincial government of British Columbia.
Members
Coast Funds' Members (defined in the Conservation Investments and Incentives Agreement – see Our Mandate) represent the interests of the original funders and the eligible First Nations communities.
The Members convene once a year at an annual general meeting of the Foundation and Society.
Chris Roberts
Member on behalf of Na̲nwak̲olas Council
K̓áwáziɫ Marilyn Slett
Member on behalf of Central Coast Indigenous Resource Alliance
Jennifer Melles
Assistant Deputy Minister, Ministry of Indigenous Relations & Reconciliation
Sarah Fraser
Assistant Deputy Minister, Coast Area, Ministry of Forests
Jenny Brown
Director of Conservation Programs, Nature United (non-voting)
Lisa Hageman
Gaw Tlagée (Old Masset) Regional Representative, Haida Nation
Bruce Watkinson
Executive Director, North Coast Skeena First Nations Stewardship Society