Ulkatcho Nation
Anahim Lake
The Ulkatcho Nation is part of the larger Dakelh First Nations group.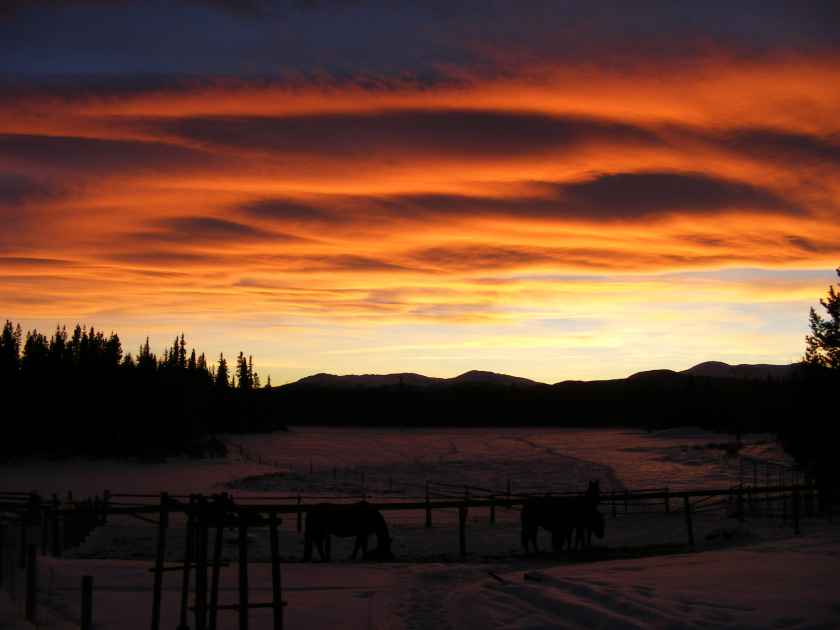 Ulkatcho territory at sunset. Photo by Ulkatcho Nation
Ulkatcho Nation
The Ulkatcho Territory encompasses the Chilcotin Plateau in the West Chilcotin, surrounded by the Itcha-Ulkatchuz mountains to the east and north, the Rainbow mountains to the west, and the Coast Range to the south.
See Projects
The Ulkatcho Nation upholds the land and resource management principle of"Yun Ka Whu'ten," which means "taking care of," and is reflected in their relationship to their lands.
Traditionally the Ulkatcho people lived nomadically, utilizing the seasonal resources on offer throughout their territory. This tradition of seasonal harvesting trips is still practised to a certain degree today.
Ulkatcho Nation Projects
In partnership with Coast Funds, Ulkatcho Nation has invested in:
| First Nation | Applicant | Project | Description | Links | Type | Year | Funding |
| --- | --- | --- | --- | --- | --- | --- | --- |
| Ulkatcho Nation | West Chilcotin Forest Products Ltd | Predevelopment for Ulkatcho Mercantile Ltd. Store Relocation and Expansion | To complete predevelopment work for the relocation and expansion of Ulkatcho Mercantile Ltd. that will enable Ulkatcho Band Council and West Chilcotin Forest Products Ltd. to raise significant infrastructure investment to relocate the existing grocery store and expand their services to include fuel and accommodations to a high traffic location, providing increased profits to Ulkatcho First Nation, and additional employment opportunities and fuel cost savings to community members | | Economic Development Fund | 2021 | $ 51,549 |
| Ulkatcho Nation | West Chilcotin Forest Products Ltd | Wild Mushroom Processing and Distribution Start-up | To create and start-up a new non-timber forest products business operating in the West Chilcotin region focusing on sourcing sustainably harvested pine and morel mushrooms from independent harvesters licensed to operate in Ulkatcho territory; adding value to the product through branding, processing and packaging; and centrally managing all aspects of sales and shipping to wholesale and retail distributors in domestic and international markets. | | Economic Development Fund | 2019 | $ 150,000 |
| Ulkatcho Nation | West Chilcotin Forest Products Ltd | Residual Wood Fibre Recovery Business Start-up | To create a new line of business that recovers wood fibre residues that are otherwise left in the forest from commercial logging operations and burned, and instead harvest this unused wood fibre and supplying it to commercial pulp and paper facilities, diversifying the company's revenue streams and reducing greenhouse gas emissions in Ulkatcho territory | | Economic Development Fund | 2019 | $ 300,000 |
| Ulkatcho Nation | Ulkatcho First Nation | Equity Financing for West Chilcotin Forest Products | To invest in capital equipment and to secure sufficient dry log timber supply that will maintain full production year-round of the West Chilcotin Forest Products sawmill in Anahim Lake | | Economic Development Fund | 2014 | $ 500,000 |
| Ulkatcho Nation | Ulkatcho First Nation | Restart of West Chilcotin Forest Products | To restart the dormant West Chilcotin Forest Products sawmill in Anahim Lake including significant capital improvements, install new equipment, and for workforce development | | Economic Development Fund | 2012 | $ 200,000 |
| | | | | | | | |
| --- | --- | --- | --- | --- | --- | --- | --- |
| Total Projects | | 5 | | | | Total Invested | $ 1,201,549 |
Total Projects: 5
Total Invested: $ 1,201,549