First Nations are investing over $200 million to develop the Great Bear Rainforest conservation economy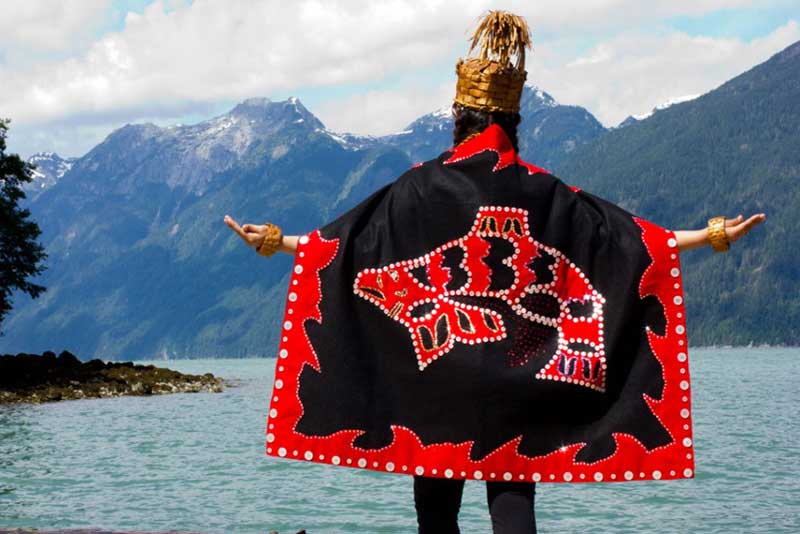 The Homalco Nation has created a new ecotourism business that provides cultural experiences, training youth guides in their language and reconnecting with their homelands in Bute Inlet. Photo by Todd Peacey for
Homalco Wildlife Tours
.
GREAT BEAR RAINFOREST, BRITISH COLUMBIA – First Nations are developing a conservation-based economy throughout coastal British Columbia and have announced the latest results from their ongoing environmental stewardship and sustainable development efforts today.  Published by Coast Funds, the conservation financing organization created in the 2006 Great Bear Rainforest agreements, First Nations are showcasing how over 250 initiatives are strengthening well-being in twenty-seven coastal communities.
"Coast Funds was created from an unprecedented level of collaboration and leadership by First Nations throughout coastal British Columbia that continues to grow stronger.  We are proud today to be announcing many significant positive outcomes that are already being realized from First Nations' initiatives since the initial Great Bear Rainforest agreements," stated Merv Child, former Chair of Coast Funds.
Quick Facts:
First Nations are attracting over $200 million in total new investment to develop and diversify British Columbia's coastal economy, including $62 million to date from Coast Funds. Just a few of the over 250 projects include the start-up of Haida's Taan Forest operations, commercialization of Kitasoo/Xai'xais' Spirit Bear Lodge, establishment of Heiltsuk's stewardship department, and creation of the Coastal Guardian Watchman Network to monitor, steward and protect coastal ecosystems;
First Nations have invested in projects that have created 670 permanent new jobs in science and research, ecosystem-based management, forestry, ecotourism, manufacturing, aquaculture, and more. 500 of these are held by First Nations community members, which is equivalent to 9% of the total working age population of First Nations communities in the Great Bear Rainforest
First Nations have finalized 18 protected area management plans based on direction from their hereditary leaders and community input for sensitive ecosystems and unique cultural sites such as Kitasoo Spirit Bear Conservancy, Tsa-Latĺ/Smokehouse Conservancy, Huchsduwachsdu Nuyemjees / Kitlope Heritage Conservancy and more;
First Nations are monitoring commercial activities by creating and expanding 14 monitoring and Guardian Watchman programs, covering an average area of at least 1.7 million hectares annually; and
Many more community well-being outcomes are announced today that will continue to increase every year in perpetuity. To learn more, see Community Well-Being.
"Over the past eight years, we've seen an incredible diversity of new stewardship programs and sustainable businesses prosper across the coast. With over $100 million in funds under management, Coast Funds looks forward to the many exciting new initiatives that First Nations continue to spearhead throughout the Great Bear Rainforest," stated Brodie Guy, Executive Director of Coast Funds.
In addition to the outcomes announced today, First Nations have launched a knowledge platform that features vibrant stories about recent initiatives, providing an interactive map that illustrates the many ecologically and culturally significant protected areas found in the Great Bear Rainforest.
To learn more about First Nations, the Great Bear Rainforest, and Coast Funds, visit: www.coastfunds.ca
###
---
Quotes
Coastal First Nations (Great Bear Initiative)
"Significant progress in the development of a sustainable coastal economy has been made since the establishment of Coast Funds.  Looking forward, the challenge for all of us is ensuring the conservation-based coastal economy on BC's North and Central Coast and Haida Gwaii continues to grow. To do so there must be recognition of the inextricable link between economic and ecological sustainability. It is not possible to achieve one without the other."
— President Marilyn Slett, Coastal First Nations (Great Bear Initiative Society)
Nanwakolas Council
"Nanwakolas member First Nations have been strengthening community well-being by creating new aquaculture, ecotourism, and manufacturing business start-ups in partnership with Coast Funds.  By creating the Ha-ma-yas Stewardship Network and a number of Guardian programs, we are also leveraging conservation financing to protect cultural heritage resources and to uphold the strength and integrity of member First Nations' Aboriginal Rights and Title."
— Dallas Smith, President, Nanwakolas Council
Haida Nation, Haida Gwaii, BC
"An economy based on respect is possible, our ancestors proved that as have other cultures around the world. It is that way of thinking that we wish to bring to our economic problems in 2016.  They had ways of thinking and knowledge that put the needs of the other creatures of the earth ahead of their own. And from that way of seeing they benefited for over 10,000 years. We would like to replicate that understanding today and design an economy that considers others fully and equally and in that way we can benefit too."
— kil tlaats 'gaa (Peter Lantin), President, Council of the Haida Nation
Kitasoo/Xai'xais Nation, Klemtu, BC
"In a short period of time we've succeeded in launching a diversity of new businesses and conservation initiatives that are strengthening well-being in our community.  Spirit Bear Lodge ecotourism experiences are recognized around the world, Kitasoo Wild Seafoods exports sustainably harvested products internationally, and Spirit Bear Research Foundation supports a diversity of conservation science initiatives we're undertaking.  Our partnership with Coast Funds on these initiatives is an important part of our efforts to develop a conservation-based economy in the Great Bear Rainforest."
— Chief Councillor Douglas Neasloss, Kitasoo/Xai'xais Nation
Gitga'at First Nation, Hartley Bay, BC
"It's now more important than ever to ensure that the traditional use knowledge we possess, as Gitga'at people and as Tsimshian people, is passed on so that future generations can continue to protect our natural resources. We are proud to share stories with other First Nation communities about our Gitga'at Guardian program and the science and research efforts we are leading throughout Gitga'at territories in partnership with Coast Funds."
— Chief Councillor Arnold Clifton, Gitga'at First Nation
Xwémalhkwu (Homalco) Nation, Bute Inlet, BC
"Creating our successful Homalco Wildlife Tours cultural and ecotourism business in Bute Inlet through our partnership with Coast Funds is enabling Xwémalhkwu youth to experience our traditional ways, share these with our customers, and with their elders who are also enjoying holistic benefits as they watch our youth grow culturally."
— Chief Councillor Mary Anne Enevoldsen, Xwémalhkwu (Homalco) Nation
Nature United (formerly TNC Canada)
"The Nature Conservancy is proud to have played a key role in conserving the Great Bear Rainforest by supporting the creation of Coast Funds, which has been catalytic for First Nations leadership in resource management and the creation of strong, viable local economies. By leveraging our initial investment and continuing to invest in local capacity over the past decade, together we are building enduring conservation in one of the most ecologically and culturally significant places on Earth."
— Hadley Archer, Executive Director, Nature United (formerly TNC Canada)
Tides Canada

"Participating in the organizational design and plan for Coast Funds a decade ago, I could only hope that it would become what it is today – a globally recognized model of conservation financing rooted in strong partnerships with First Nations. At Tides Canada, we feel real pride in the accomplishments of Coast Funds, and their role in developing a resilient conservation-based economy in coastal British Columbia."
— Ross McMillan, President and CEO, Tides Canada
Province of British Columbia
"The Great Bear Rainforest is globally unique and I'm pleased to see that through the agreements reached in the area we're able to balance the need for environmental protection in this area while still supporting job growth."
— Honourable Steve Thomson, Minister of Forests, Lands and Natural Resource Operations
---
Media Contact
Brodie Guy
Executive Director
Coast Funds
778-960-4214
brodie@coastfunds.ca
---
About Coast Funds
Coast Funds is a globally recognized model of permanent conservation financing that invests to strengthen the well-being of First Nations and the ecological integrity of the Great Bear Rainforest and Haida Gwaii regions of British Columbia, Canada.  Founded with $118 million in 2007, Coast Funds is a partnership of private foundations and government: The Nature Conservancy, the Government of Canada, the Province of British Columbia, Hewlett Foundation, Packard Foundation, Moore Foundation, Tides Canada, and the Rockefeller Brothers Fund.  As of September 2016, Coast Funds has approved over $70 million towards 297 conservation and sustainable development projects in the region. www.coastfunds.ca
About the Great Bear Rainforest
Located on Canada's Pacific Coast, the Great Bear Rainforest and Haida Gwaii is one of the largest remaining temperate rainforests left on Earth.  For thousands of years, First Nations have carefully managed the abundance of natural resources in the sea and on the land by relying on their knowledge of seasonal cycles to harvest a wide variety of resources without harming or depleting them. Today, First Nations are developing sustainable business opportunities while continuing to steward the region's resources and protect the integrity of coastal ecosystems. Legally established through land-use agreements between First Nations and the Province of British Columbia in 2006, this globally unique area covers 6.4 million hectares and has been home to First Nations communities since time immemorial. www.coastfunds.ca/great-bear-rainforest/
---
Media Assets